4 Ways To Stay Motivated To Stay Fit by Dr. Eddie Hall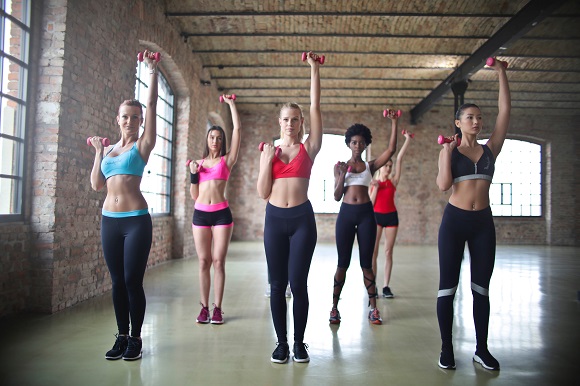 4 Ways To Stay Motivated To Stay Fit

Anyone try to talk themselves out of exercise before? Of course you have, we are programmed to avoid the pain and discomfort of putting our bodies through this stress. In all actuality we are designed to move it is an essential nutrient to increase our body and brain function every day. I began working out as many of you will relate in order to be able to perform at a higher level in my favorite sport. As we grow older, we don't have so much of the sporting competition and instead the competition becomes staying healthy for an optimal life to be lived. The healthier we are we can avoid injuries, increase mood, set an example for our family, increase our immune system, and just have a better overall sense of well-being. As the winter draws near with shorter days, earlier nights, and more of the cold weather we all love begins to be another layer on lack of motivation to be physically active. So, here are a few simple steps to keep ourselves motivated to keep our bodies in the best shape possible.
What is your way for working out? We all have one whether we have reflected as to what that is or not is a completely different story. It can be as simple as I want to have a sexier body, to live longer, to compete in an event. This is a great starting point but WHY? Why do we want a sexier body, to live longer, to complete an event? Use the 7 layers deep exercise and peel the layers of the onion back far enough that your way brings an emotional change to your body. Then this why will be your leverage to get up and do the things to bring you closer to your goals each day. Some examples can be to live a long and healthy life to be able to play with my kids or grandkids. To be able to attract a significant other. To feel better about myself and give me the confidence to live the life of my dreams. It doesn't matter what your why is; it only matters that you find out WHAT your WHY is!!
1. Set A Goal

There is nothing more motivating than the Spartan race, marathon, 5k or any fitness event circled on your calendar. So, if these are things you do or want to start participating in register early and modify your workouts to have you ready to crush it on race day.
The goal being set doesn't' have to be participating in an event, but maybe getting ready for someone's wedding day, or fitting into your favorite pair of jeans again. Whatever the goal is the point is to have it written and read this goal daily upon waking and throughout the day when motivation begins to waver.
2. Schedule Times/Days

You must dig deep and realistically be able to commit to a certain number of days and times per week that you KNOW without question you are going to commit to exercise only. Some of the most committed to exercise do so before the sun comes up or late night after work and kids go down to bed. Sit down with your schedule and figure out where this fits best in your life and what you will need to reach your goal. Say you have a set 3 day schedule that you can hit each and every week, but there are a few other days that if things go a certain way you will be able to get another workout in….GREAT! Those extra days are just icing on the cake.
Whatever you do; DO NOT just expect this to happen in your day, you must schedule these things, because chances are that last minute invitation will come along, the weather will foil a bike ride, or the kids won't nap. Use your calendar, set up daycare on certain days, use your phone to set reminders, or task related apps. This hour must be set in stone in your calendar just as the business meetings you have set, or client calls, etc. Remember if we fail to plan, we plan to fail!!
3. Change It Up

It's in our DNA that we need change to keep our interest and motivation through life. So, make sure you are having fun with whatever you set to do for your exercise. Join a gym with alternating class schedules so the content changes, run trails that change with scenery, subscribe to an online workout program that changes every so often.
Not only will the variety of exercises or types of workouts keep you mentally engaged; it will also challenge your body in different ways to continue to improve and break through plateaus. Whatever you choose to do just make sure you push it hard for the time you have scheduled for this, so you get the most out of your time.
4. Exercise With Another Person Or A Group

The research has clearly shown that for people to stick long term to fitness they need encouragement and accountability from others, and even some friendly competition. If this means hiring a trainer, asking a friend to join you, social media group, join a gym, etc. We can always accomplish more as part of a team than individually.
This should be someone or somewhere that calls you to check in on your workouts, or if you've missed one, or aren't reaching the goals you set for yourself. People lose up to 3x the amount of weight when having an accountability partner as compared to going it alone.
Now use these tools and stay motivated to reach your triple P LIFE!!
YOU ARE WORTHY AND DESERVING OF PERFECT HEALTH, IT IS YOUR DESTINY!
Yours in good health,
– Dr. E
PS
EmPower Your Dreams, Ignite Your Passion, Accelerate Your Prosperity
www.PowerPassionProsperity.com
Podcast on Spotify (Android)
Please join our FREE FaceBook (PowerPassionProsperity or TriplePLife) Fan page and share with us how we are doing and what content you would like to learn more about. Also leave us a comment about what steps you are taking right now to achieve your own TRIPLEPLIFE. The show features one of our listeners each week. We would love to share your story about how the PPP is changing your life. Our team and Dr. Jay will work hard to personally respond to each one of your comments!