A 95 Billion Dollar Mistake! by WJ Vincent II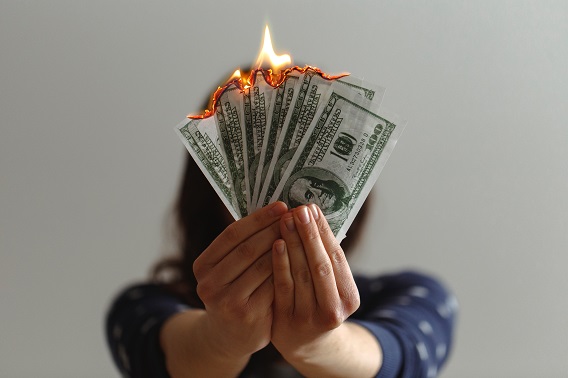 A 95 Billion Dollar Mistake

So today we thought we would share one of the great "history" lessons from business.  We have a great deal of coronavirus information, strategies, and more to share and discuss, but let's take a break from that this week, and just try and learn something useful during any time of our lives.  Intelligent people learn from their mistakes…WISE people learn from the mistakes of others, hopefully the story we are about to share with you, will add priceless wisdom to your business and life…
"Excerpted  from an article in the "Money" part of CNBC back on August 2nd, 2018″

Apple shares hit a historic $1 trillion market cap value on Thursday, becoming the first publicly traded U.S. company to ever reach the milestone. The stock briefly hit the $207.05 per share price that was needed to bring Apple to the $1 trillion mark before retreating.
"I think it just speaks to just how powerful the Apple ecosystem has become over the last few decades," GBH Insights analyst Dan Ives told CNBC after the historic market move. "This is not the end, that they hit $1 trillion. I view this as just kind of speaking to a new a stage of growth and profitability."
Owning 10 percent of Apple right now sounds like a dream. But one man actually knows what it's like to watch that opportunity slip away: Ronald Wayne, the little known third co-founder of Apple.
Wayne joined Apple co-founders Steve Wozniak and Steve Jobs, who were 21 and 25 at the time, to provide the company with "adult supervision" and to oversee mechanical engineering and documentation, in exchange for a 10 percent stake in the business, according to an episode of CNBC's "The Filthy Rich Guide."
The Contract
On April 1, 1976, Wayne sat down at his typewriter and drew up an agreement outlining each man's responsibilities, making his role with Apple official. He also drew the company's first logo, which was used for less than a year before being replaced by the symbol associated with the company today.
Wayne rapidly grew concerned that any debts incurred by the business would fall on him, personally. Jobs had taken out a $15,000 loan so he could buy supplies to fulfill Apple's first contract with a Bay Area computer store, The Byte Shop, which had ordered around 100 computers, Wayne tells Business Insider. But The Byte Shop was known for failing to pay its bills and Wayne worried that Apple wouldn't be able to recoup the money.
While both Jobs and Wozniak were young and broke, Wayne had assets, including a house, and feared that the financial burden would fall on him if the deal went south.
12 Days Later
So after spending a mere 12 days with Wozniak and Jobs, Wayne had his name taken off the contract and sold his shares back to his co-founders for $800.
Wayne's decision to leave the start-up cost him big. Today, a 10 percent stake in Apple would be worth more than $95 billion. That kind of a fortune would make Wayne one of the richest people in the world.
Amazingly, Wayne says he doesn't regret his decision, mostly because he knows he wouldn't have thrived at Apple. "I would wind up in the documentation department shuffling papers for the next 20 years," he tells Business Insider.
Wayne felt out of place, like he was "standing in the shadow of intellectual giants," he tells Cult of Mac of his brief tenor with the company. "I was 40 and these kids were in their 20s. They were whirlwinds — it was like having a tiger by the tail. If I had stayed with Apple I probably would have wound up the richest man in the cemetery."
Another Million Dollar Mistake
The one thing he does regret, however, stems from his time with Apple. Wayne kept his original contract from 1976 for years. Then, in the early 90s, he sold it for $500.
"I had this Apple contract sitting in my filing cabinet, covered in dust and cobwebs, and I thought, 'What do I need to hold onto that for?'" he tells Cult of Mac.
According to "The Filthy Rich Guide," in 2011, the same contract sold at auction for $1.59 million.
What Did We Learn?
Being in the right place, at the right time, is part of the equation….taking massive action is another part of the equation, never quitting, and finding a way to persevere is yet another part of the equation for success in business.  There is an expression that 2 out of 3 ain't bad, but in the world of business…you gotta do all 3, over and over again.  Here's to all of us making our own mistakes, learning from them, growing, and getting better.  May all of us on the few occasions where we find ourselves in the right place at the right time, be bold enough to take action….and strong enough to never quit!
Hope all of you have an empowering…full of learning week!
WJ Vincent
PS
EmPower Your Dreams, Ignite Your Passion, Accelerate Your Prosperity
www.PowerPassionProsperity.com
Podcast on Spotify (Android)
Please join our FREE FaceBook (PowerPassionProsperity or TriplePLife) Fan page and share with us how we are doing and what content you would like to learn more about. Also leave us a comment about what steps you are taking right now to achieve your own TRIPLEPLIFE. The show features one of our listeners each week. We would love to share your story about how the PPP is changing your life. Our team and Dr. Jay will work hard to personally respond to each one of your comments!