Christmas & Holiday Message From Dr. Jay & WJ… by WJ Vincent II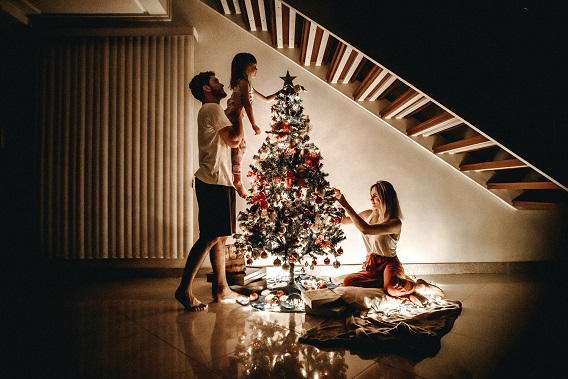 Christmas & Holiday Message From Dr. Jay & WJ
Season's Greetings Video Included!

Hello Everyone, and Thank you For Taking The Time To Read our Blog throughout the year. We have only a little time left in 2020, and the holiday season is fully upon us. Hopefully you have the freedom and flexibility to spend at least some time with the ones you love, family, friends, doing things you love. Before we talk a little "Christmas" we wanted to say a special thanks to all of you for supporting us here at TriplePLife! We are working on doing some really big things to make the world a better place, and that is only possible because of people like you, so THANK YOU! Now..how bout we "Rock" a little Christmas???
BE CAREFUL THIS CHRISTMAS!!!

Now, I know what you are thinking….something about COVID-19…wearing a mask, being sanitary…don't sneeze on the Christmas cookies….nope, not what I was referring to at all. I was thinking about a friend of mine…a few years back, wonderful lady, big into the holidays. Very considerate, caring, always sharing, generous, just a beautiful human being, who loved to share the joy of Christmas. (Please note, we understand not everyone celebrates Christmas, we fully respect all choices people can make with regards to what they believe in, what they celebrate, etc., so we hope you will feel the same about us celebrating Christmas, and sharing some of the fun with everyone…) Anyways, this lady was always involved in tons of projects, plays, pageants, school stuff, church stuff, family stuff, so at Christmas time she was always doing last minute shopping etc., and this particular year, she was late getting her Christmas Cards out. Since it was a long-standing tradition, during all the hustle and bustle, she grabbed a box of 100 Christmas cards that looked good, never bothering to read what they said inside. She quickly zipped out almost all those cards hoping they would get to everyone before Christmas, and in her rush, she never bothered to read what was in the cards, she just signed them all, stuffed them in, and dropped them in the mail. Well, a few days after they had been mailed, she came across a couple that hadn't gone out, and she paused for a moment to "read" the card…and to her horror inside the card it said…"This card is just to say….a little gift is on the way!" WHOOPS! Lol, oh yeah that was a funny one…
Here is the cool part though…being the kind of person she was…she went out and bought a bunch of candy canes…and put little package envelopes together and mailed everyone on the list that had gotten the card…a candy cane…a lot of extra work…but classy right? Still…don't be in too much of a rush…and you can avoid this kind of Holiday Horror story right?
TRADITIONS
My family has a ton of wonderful traditions, like getting each other presents that we all open together. Different baked goodies made almost every year…favorite Christmas Music to listen to (OakRidge Boys Christmas, Kenny Rogers & Dolly Parton Christmas, Amy Grant Christmas, Charlie Brown Christmas, Chipmunk Christmas and so many more!). We go sledding, sometimes ice skating, build snowmen, have snowball fights, drink lots of hot chocolate with marshmellows. The list is long and fun, but the best tradition is all of us getting together as a family. My baby sister lives far away in Louisiana now (We are in Wisconsin)….but she comes home with her husband and kids for Christmas. My baby brother and his wife have busy jobs in healthcare, but they always take time off to hang for at least a day or two over Christmas. My mom and dad host us all, there is lots of good food, but even more good times, playing board games (Monopoly, Risk, Go Fish, and Many More)! The memories we make every year, and the love we share, have only made each Christmas that much better.
Secret Santa
One of my favorite traditions, is being a part of the Secret Santa Network. I encourage all of you, if you can, to be a part of this wonderful tradition. Basically, you keep a little extra cash…maybe a $100 bill if you can spare it…and watch out for people you can see are in trouble, or struggling. I have found many a worthy recipient over the years in laundromats…you go up to this person, with the cash in an envelope…you say congratulations, you have been selected by the Secret Santa Network for a little gift this year. Merry Christmas! And then you high tail it out of there. It is so much fun. Some years we can give more…other years we can only give to one person, but it is fun to do it, and even a small amount, lets a person having a tough time know, people do still care, and maybe they can do something for themselves, their kids, or a loved one, they otherwise wouldn't have been able to do!
Dr. Jay's Video
Here is Dr. Jay's Video, take a minute to watch him share with you a Season's Greetings:

MERRY CHRISTMAS
Well, Merry Christmas Everyone! From our house and home, to yours, may this be one of your best holiday seasons ever. Know you are loved and appreciated, you mean so much to us. So many of you are making real differences in the world we live in, and we are just so proud of all of you, and grateful for your support of us and our own mission to change the world. Please be safe, have fun, and share the love this Christmas, or whatever holiday you choose to celebrate. All the best to you and yours. And God Bless Us Every One!
Here's to Empowering your dreams, Igniting Your Passion, and Accelerating Your Prosperity!
Sincerely,
WJ Vincent II
PS
www.PowerPassionProsperity.com
Podcast on Spotify (Android)
Please join our FREE FaceBook (PowerPassionProsperity or TriplePLife) Fan page and share with us how we are doing and what content you would like to learn more about. Also leave us a comment about what steps you are taking right now to achieve your own TRIPLEPLIFE. The show features one of our listeners each week. We would love to share your story about how the PPP is changing your life. Our team and Dr. Jay will work hard to personally respond to each one of your comments!