Did You See This? by WJ Vincent II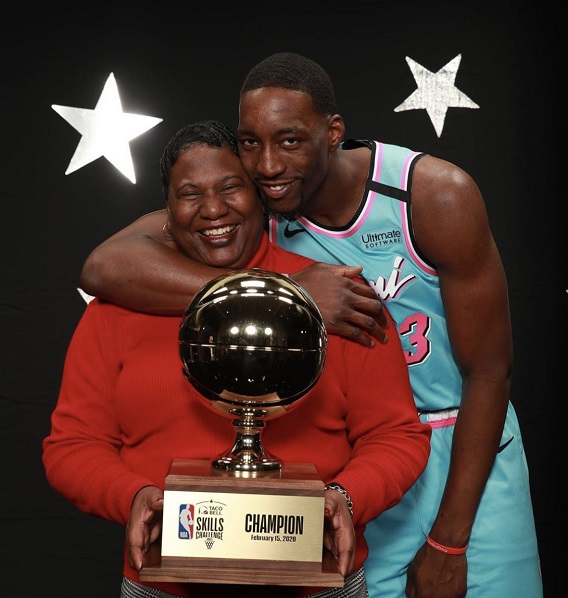 Did You See This? by WJ Vincent II
Greatness On Display Tuesday Night

What is up everyone?!?!  So for this week's blog we decided to do a little current spotlight on something that happened in sports. We know that a lot of us have been frustrated with all the politics getting mixed up into our sports escape, in fact many of us haven't been watching sports like we used to, because it no longer provides the getaway it used to. Well this week, I personally saw something amazing, and then learned more about a particular player in the NBA, and the story, event, and highlight was just too good not to share. All of us can use a little inspiration in our lives now and then, and the story of Bam Adebayo is one to just sit back for a moment and enjoy.
The Story behind NBA Player Bam Adebayo

If you want to know a lot about this player, you can click the link on his name above for a great article by one of the premier sports writers, but let me summarize it all for you. Bam grew up in a Trailer, raised by a single mom, who couldn't drive. His mom worked full time at a place called the Acre Station Meat Farm…because she didn't drive, she walked to work every day. She made Bam breakfast every day at 5:45 AM…sent him off to school…then walked to work. Many times when Bam would get home from basketball practice she would already be asleep. Her weekly paycheck was $240…she had to get coaches, teachers, etc., to help with driving Bam to practices, making sure he got where he needed to be…and stayed away from the places he shouldn't.
I will be rooting for Bam…for the rest of his career, because he represents the kind of story all of us should be able to get behind. His mom "worked" to give him a better life. His mom took the time to get other people to support her son. She demanded he get good grades, she demanded he be a good person, she laid the foundation for Bam to take the talent he was blessed with, and turn it into something amazing. From Trailer Park, to Multi-Millionaire, to potential historically great player, all because Bam's mom chose to NOT be a victim…and instead make the best she could with difficult circumstances.
Did You See It?
Here is the play from Tuesday night, with only a few seconds on the clock, one of the best offensive players in the NBA drives to the hoop for a Slam Dunk…and Bam jumps right up and using his left hand makes a perfect block…Magic Johnson was quoted saying it was one of the greatest defensive plays in NBA Playoff history!
Greatness Happening Right Now
So I hope each and every one of you takes a moment to think about the journey of a hard working, not afraid to do the work, focused on defense, rebounding, blocking shots, hustling, whatever it takes to win the game Bam Adebayo. His mom walked to work every day cause she couldn't drive, but she made sure her son had a chance at a better life, despite her difficult circumstances. The Miami Heat got really lucky when they drafted this kid. They weren't supposed to beat the Milwaukee Bucks, but they did. The Boston Celtics are supposed to beat them, but thanks to Bam's heroics they have won the first of a Best of 7 series. I dunno how much, if any of the games I will actually end up watching, but I will be keeping an eye out on Bam, cause he is the kind of person you root for to succeed. Hope you enjoyed watching an amazing play, and hearing about an incredible story, where a kid from a trailer park, becomes one of the most dynamic athletes in the world today, because of a mom that loved him, and chose to NOT be a victim of circumstance!
Attend The GPS To Success Summit November 14th, 2020

One of the best ways to work through, and remove all the limiting beliefs in your life, is to attend the upcoming GPS To Success Event.
On November 14th, Dr. Jay LaGuardia, Dr. Eddie Hall, and myself will be spending an entire Saturday at the upcoming GPS To Success Summit sharing some of the best knowledge we have garnered from our combined 50 Plus Years of Business Success!
Chiropractors, Business Owners, and More who attended last year were able to get amazing results applying the knowledge we shared. This year's event is already half full, and time is running out to take advantage of our Early Bird Discount. Dr. Jay has taken the most powerful, innovative, proven success strategies the world has ever seen,  and worked some of the most important stuff into a one day summit for the ages!
We have combined the knowledge of billionaires, multi-millionaires, great artists, athletes, business owners, healers, and so much more into a system of success so brilliant and simple to follow, literally anyone with the willingness to do the work, and apply the information, can improve every aspect of their life. If you are looking to finish 2020 strong, and set yourself up for even greater success in 2021, don't miss this once a year event. Some of the most brilliant people in the chiropractic profession, and small business community will be there. Become a part of a mentor group that is quite literally changing the world for the better.
GPS To Success 2020 CLICK HERE
Few technologies have transformed and made our lives easier, as much as GPS has.
Imagine if any of us could just use a GPS…like the one in our cars, or phones, plug in the address to the life we have always dreamed of, and then we would receive step by step instructions of how to get that life? Would we be smart enough and disciplined enough to follow the instructions?
The information necessary to build a better business, and life is shared through TriplePLife, Dr. Jay, the PowerPassionProsperity Podcast, every day. Once a year, we spend an entire Saturday working with a small group of people to help them to learn exactly what they need to do, in order to get everything they have ever wanted out of their business and life, we hope to see you there.
Here's to Empowering your dreams, Igniting Your Passion, and Accelerating Your Prosperity!
Sincerely,
WJ Vincent II
PS
www.PowerPassionProsperity.com
Podcast on Spotify (Android)
Please join our FREE FaceBook (PowerPassionProsperity or TriplePLife) Fan page and share with us how we are doing and what content you would like to learn more about. Also leave us a comment about what steps you are taking right now to achieve your own TRIPLEPLIFE. The show features one of our listeners each week. We would love to share your story about how the PPP is changing your life. Our team and Dr. Jay will work hard to personally respond to each one of your comments!