Getting Enough Fruits and Veggies? by Dr. Eddie Hall (Dr. E)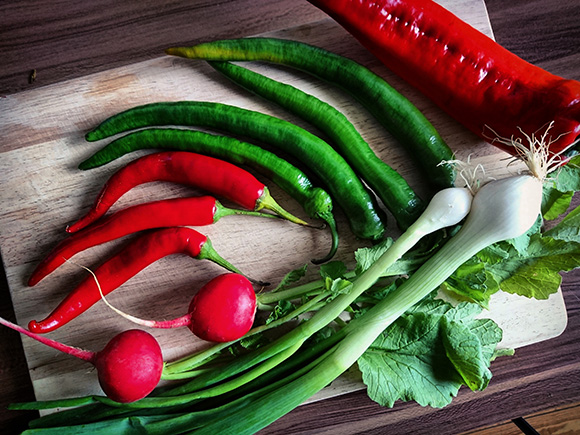 Are You Getting Enough Fruits and Veggies??
I would argue that everyone in order to get their fruits and veggies, should take greens. Supplementing with greens can fill many nutrition gaps as well as provide many health benefits. The fact of the matter is that with so many supplements on the market it is hard to determine the good, the bad, what you actually need, and what effect it can have on your health. We should always get our nutrition from good fresh food sources as opposed to supplementation whenever possible, especially with fruits and veggies, as this always yields better results. However there are a few supplements that are essential to the human genome that very few get enough of in their daily lives. I have posted before on the essentials of supplementing with Omega 3s, Vitamin D, and probiotics; and today I will talk a lot about another supplement I have been taking for years, and the reasons you should add it into your daily regimen.
So why Dynamic Greens for Your Fruits and Veggies?
First ask yourself are you getting your 9-11 servings of fruits and veggies per day? You know what to eat, but maybe you're not crazy about broccoli and you've had more spinach than you can stand. How do you get everything you need—every day? Most of you don't get enough, and some don't get any. If you fall in this category just nod to yourself as you read on. Basically dynamic greens give you a super blast of fruits and veggies that is easily mixed in water, smoothies, or as I prefer with my post workout protein shake. Just one serving gives you 20 servings of fruits and vegetables, from over 15 organic foods, including a plethora of vitamins, and over 70 organic trace minerals. We can't substitute our entire fruit and vegetable needs through greens, but it offers a great way to compliment our body's needs in this area.
DON'T forget about your gut!! With 80% of your immune system residing in your gut, this shows the importance of keeping our gut functioning at maximum capacity to avoid illness. Digestion and detoxification are extremely important in supporting your immunity and how your body functions and feels. These greens (veggies) are loaded with enzymes, probiotics, and fiber to keep things moving! Many fiber supplements are loaded with artificial ingredients that can actually do more damage to your gut. So if you are interested in fiber support alone, these greens are a much more natural approach.
DO take them for antioxidant support. Antioxidants protect our cells against damage and in the toxic bubble we live in today, we need all the help we can get! Each scoop of these greens (veggies) contains 9,000 ORAC units (measure of total antioxidant power), which equates to the amount in 3 cups of blueberries!
DON'T be afraid of the taste! I guarantee you, these greens taste fabulous! We currently carry a lot of different flavors for any palate (grape, mint, kiwi-strawberry and chocolate) that taste amazing alone or blended with other ingredients. I often recommend these to parents to help wean their children off sugar-dense juice beverages. Just add a scoop to eight ounces of water, and you have a great-tasting drink without all the artificial ingredients and sugar. Along with no sugar, these greens (veggies) are free of wheat, dairy, preservatives, MSG, stimulants and caffeine. A win-win!
DO flavor other foods with greens (veggies)! You don't have to use them only as a greens drink. Add a scoop to some plain Greek yogurt (replaces those artificial puddings/gelatins) or to your favorite, high-protein pancake recipe.
Fruits and Veggies Other Benefits:
– Great antioxidant formula
– Provides nutrients that your body craves to maximize energy
– Promotes healthy immune function
– Helps alkalize the body and balance pH
– Contains digestive enzymes, probiotics, and fiber
– Provides detoxification for weight control
– Does NOT contain wheat, dairy, sugar, preservatives, MSG, stimulants or caffeine
YOU ARE WORTHY AND DESERVING OF PERFECT HEALTH, IT IS YOUR DESTINY!
Yours in good health,
Dr. E
PS
EmPower Your Dreams, Ignite Your Passion, Accelerate Your Prosperity
www.PowerPassionProsperity.com
Podcast on Spotify (Android)
Please join our FREE FaceBook (PowerPassionProsperity or TriplePLife) Fan page and share with us how we are doing and what content you would like to learn more about. Also leave us a comment about what steps you are taking right now to achieve your own TRIPLEPLIFE. We will feature one of our listeners each week. We would love to share your story about how the PPP is changing your life. We will work hard to personally respond to each one of your comments!