What If? by WJ Vincent II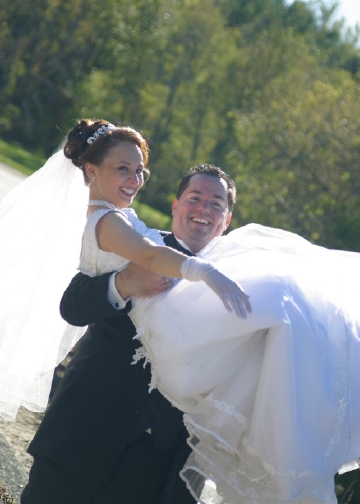 What If? by WJ Vincent II
What If You Lost Everything?

So a week ago or so…on St. Patrick's Day…it was exactly 22 years since I went out on my first date with the mother of my children, and the love of my life….Natalia.  Even after we were married, we always celebrated that first date as much more of an anniversary, than our wedding day.  She was an immigrant to the United States from Russia.  Her family had won the green card lottery to be able to come here, and when I met her she was working 3 jobs to help make ends meet for herself, her mom, stepfather (who spoke no English so couldn't work), and a 3 year old little sister, and newborn little brother.  She was a hard worker, always ready to self-sacrifice for the greater good.  Few people if any I have ever met were more caring, loving, and generous with their love, money, and life as she was.
Ours was a love like those you read about in romance novels, watch on television, or see in the movies.  It was amazing, and the 13 years we got to spend together went by in the blink of an eye.  More than anything though, I was lucky, maybe one of the luckiest people to have ever lived.  How can that be possible you might ask…when my beautiful wife died of a brain tumor at the age of 34 years old…with a 20 month old daughter, 4 year old son…13 year old brother and 16 year old sister whom we were raising as our own kids, and a handicapped mom (multiple sclerosis) all left behind?
Living Life With No Regrets!
So, how can I possibly be lucky…it is a fair question, but before I get into that, what about the first question of this article?  What If You Lost Everything?  The most interesting part of that question is that it means something different to almost everyone.  Some people think about losing their money, some their health, others think about their loved ones…but by definition, "everything" really means "everything" doesn't it?  What if you lost your loved one?  You Lost Your money, and your health, all at the same time?  How would you handle it?  What would be the first thing that would happen in your "mind"?  I can share with you firsthand, the first thing you start thinking about in that situation is all the things you will never get to do with the person you love, who is now gone.  You are filled with regret from the bottom of your soul, and it is the kind of gut wrenching, deep seeded, wreck you type of feeling that wakes you up in the middle of the night.
My wife Natalia and I had been incredibly blessed.  We had been very successful, built a very successful business, had beautiful, happy, healthy children.  We shared our blessings with our family, helping them any way we could.  We travelled the world together…somewhere north of 20 different countries I think we spent time in together.  Cruises, spas, resorts, cabins, mountains, oceans, jungles, deserts, you name it, we crawled, climbed, floated, swam, walked, hiked, soaked, and more across some of the most beautiful and mystifying places on earth.  We wrote down our goals in all the most important areas of life (Financial, Spiritual, Social, Emotional, Mental, Physical, and Family) and set about accomplishing them "together". We laughed, and loved, and inspired each other to be the best we could be, and in so many ways we did get better, and it was a golden age as golden as anyone could ever ask for….and that is the only reason why I am still here.  That is the reason why I am so lucky…because despite losing "everything" and circumstances resulted in me not only losing the love of my life, but also my money, and my health too…and yet I had almost no regrets…which makes me so very lucky…
Beware of the "If Only" of life
I am so grateful that Natalia and I didn't sit around talking about "One Day" or "Some day".  I am thankful beyond belief that we were not making excuses saying "If Only" this would happen we could take a trip.  We made it happen, over and over again.  We built the dream life we had always dreamed of, and so when cancer took her away from us so suddenly, and shockingly…of course we were devastated beyond words.  There is a hole in my heart and soul that will never go away…and it was almost impossible to move on, and I still have days where things are difficult and challenging…but I have very, very few regrets.
I am not sitting here wondering what might have been…how we could have spent those 13 years together better.  And that ladies and gentleman is the message and lesson for this week that I hope to share with each and every one of you.  Life is happening every single day.  Time is passing, it is moving forward, and there is no stopping it.  TriplePLife is all about Empowering Dreams, Igniting Passion, and Accelerating Prosperity…TODAY!  We want everyone to live their best life…don't wait…get started today.  Tell the people you love how much you love them….find time to spend with the people you KNOW you need to spend more time with.  DO the things you dream of…don't wait…cause that question "What If?" Sooner or later we will lose someone, or something we cherish….and the only thing that will make that loss palatable, the only thing that will make life bearable is the many memories you had with that loved one….all the moments you had together…all the time that you really LIVED.  My wish for all of you is that you will have many, many years with the people you love…hopefully decades and more.  And it is my deepest hope that you will spend those years wisely….because while it may be impossible to live a life of "no regrets"….it is definitively possible to live a life with "few regrets"….and that is the best way….to LIVE!
Here's to Empowering your dreams, Igniting Your Passion, and Accelerating Your Prosperity!
Sincerely,
WJ Vincent II
PS
www.PowerPassionProsperity.com
Podcast on Spotify (Android)
Please join our FREE FaceBook (PowerPassionProsperity or TriplePLife) Fan page and share with us how we are doing and what content you would like to learn more about. Also leave us a comment about what steps you are taking right now to achieve your own TRIPLEPLIFE. The show features one of our listeners each week. We would love to share your story about how the PPP is changing your life. Our team and Dr. Jay will work hard to personally respond to each one of your comments!